Quick Look preview for InDesign documents
inddPreview shows what's usually hidden
inddPreview enables Finder and Quick Look to show preview images of InDesign documents.
You know that problem: searching for an InDesign document, not remembering its name but how it looked like. Opening one file after the other in InDesign – well, that's the wrong document – closing – next try – also wrong – next – etc.
Wouldn't it be nice if we could see what's inside a file already in the Finder – just like we can do with image files, PDF's and many other file types?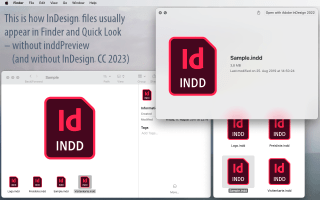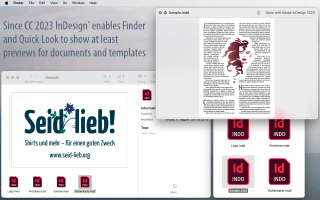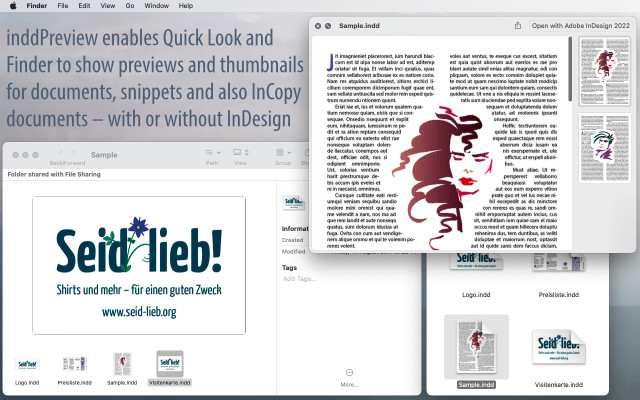 inddPreview makes that possible! inddPreview enables the Finder to show these – usually hidden – preview images which are embedded in Adobe InDesign documents. No need to run the app – it's sufficient to have inddPreview installed. And all of a sudden the Finder shows nice little preview images instead of featureless file type icons. By pressing the space bar a Quick Look window opens letting you have a more detailed insight.
The main goal of inddPreview is to provide this Quick Look plugin to the system. In addition, you can use the app and open an InDesign file with it to copy those preview images to your clipboard to use them elsewhere.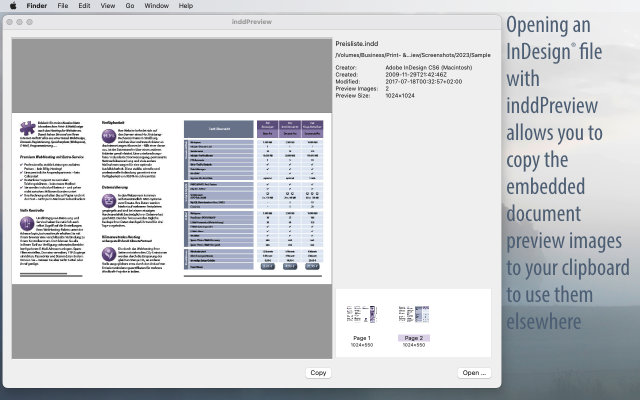 inddPreview supports all InDesign documents (.indd), template files (.indt), snippets (.idms) and InCopy documents (.icml) of versions from CS2 up to current version CC2023. Precondition is to embed preview images when saving files with InDesign. Whether and how many thumbnail pictures will be embedded and of what size they are, can be configured within the preferences of InDesign.
inddPreview requires OS X 10.8 Snow Leopard or later.
By the way: inddPreview is the successor of inddQLgenerator, which was the first piece of Mac software I made in 2009. Learn more about the story behind inddPreview …